Starfish Rhinestone Pearl Wedding Tiara
Show Off Your Inner Princess With A Beautiful Tiara
The princess within me is a proud fan of tiaras – crystal tiaras, rhinestone tiaras, feather tiaras – you name the tiara and I've worn it. And, I've worn those tiaras proudly!
Putting on a fancy headpiece just makes me feel so special and, sometimes, so silly. And, it doesn't have to be my wedding tiara that makes me happy – every tiara gives me the same special princess-y feeling.
I've been known to don a tiara simply for a trip to the local grocery or liquor store – btw, it fits right in with the liquor store crowd.
On top of myownself looking fabulous in a tiara, I love that seeing a tiara makes people smile. In fact, I've often been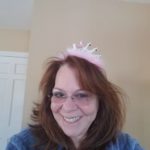 approached with questions about my tiara wear. Others seem to wish they had the aplomb to pull this fancy headwear off.
So, as a way to start a tiara movement (don't we need a FUN movement for once?), I'm bringing you some of the prettiest and, yes, most outrageous tiaras I could find.
Note: you can easily secure a tiara with some hair pins
. Otherwise, someone may snatch it right off your head…
Wedding Tiaras
These tiaras are the real thing and the prices will prove it. The good thing about tiaras though is that they last forever! So, a fancy tiara can be worn or loaned to a special friend for many many years.
 Twigs & Honey Women's Dainty Beaded Fern Leaf Vine Bridal Hairpiece
 USABride Scrolling Rhinestone Bridal Crown, Gold-Tone Wedding Tiara, 3157-G
 USABride Swarovski Crystal and Rhinestone Bridal Tiara Wedding Crown 3100
 Celtic Tiara Crystal Trinity Flowers Made in Ireland
 Twigs & Honey Women's Beaded Gold Blossom Vine Bridal Hairpiece
 USABride Bridal Headband Tiara with Freshwater Pearl & Rhinestone Swirl Design 3083
Tiaras Suitable For Birthdays
Celebrate growing older (hey, it's better than the alternative) with a fun birthday tiara. And, the first three tiaras shown below have interchangeable numbers so you can change them yearly. In other words, you can celebrate your 50s with 50, 51, 52…59. Now, that's versatile!
 30th Birthday Party Rhinestone Tiara Crown Age 30 31 32 33 34 35 36 37 38 39
 40th Birthday Party Rhinestone Tiara Crown Age 40 41 42 43 44 45 46 47 48 49
 50th Birthday Party Rhinestone Tiara Crown Age 50 51 52 53 54 55 56 57 58 59
 Beistle 60632 Glittered Metal Birthday Girl Tiara
 One Rhode Island Novelty Birthday Marabou Princess Pink Tiara
 Elegant Its My Birthday Lace Sash and Birthday Girl Glitter Tiara by Express Novelties Online
 Birthday Girl Party Accessories Set Tiara Sash Pink Bundle (Tiara and Sash)
 Qixuan Charming Happy Birthday Rhinestone Heart Flower Design Tiara Crown Headband Comb Pin Happy Birthday Tiaras (Blue)
 Crystal Ave Women's Birthday Pink Crystal Tiara Headband (It's My Birthday)
Just Plain Old Every day Gorgeous Tiaras
Unleash your inner princess with these easy to wear headpieces.
 TinkSky Wedding Tiara Rhinestones Crystal Bridal Headband Pageant Princess Crown
 Sunshinesmile Crystal Tiara Crowns Hair Jewelry Rhinestone Wedding Pageant Bridal Princess Headband
 Tinksky Wedding Tiara Rhinestone Decorated Bride Tiara Hair Barrettes Hairband Hair Clip Hair Loop (Silver)
 NIPOO Wedding Pageant Tiara Bridal Rhinestones Crystal Crown Headband Princess Headpiece
 Remedios Elegant Rhinestone Leaf Wedding Headpiece Headband Bridal Tiara Crown
 BelleSha Queen Sophia Tiara – wedding bridal prom birthday pageant headpiece
 Sunshinesmile Wedding Bridal Tiara Crystal Silver Rhinestone Leaf Pageant Crown Veil Headband
 SWEETV Royal Wedding Crown Clear CZ Crystal Pageant Tiara Headpiece Women Hair Jewelry, Silver
 Women Stylish Shining Rhinestone Crown Headband Tiara