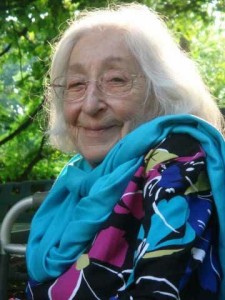 After that menopause hot flash hits, if you're like me, you're probably going to be coated in sweat and getting chilled. My response to this (after my looking up to the heavens and yelling 'REALLY?!') was to grab the closest pashmina shawl available and wrap up in it. Within seconds, I was more comfortable, enveloped in the soft fabric.
When I cared for my elderly Mom, I used pashmina shawls to protect her from drafts. In fact, that picture to the left is of my Mom wrapped in the  shawl I still carry on airplanes to shield myself against the air conditioning. It washes up beautifully and dries in the dryer just as well.
When purchasing a pashmina scarf, make sure to check the measurements as some are larger than others. I prefer the larger size so that I can even use my scarf as a light blanket when I lay on the sofa watching tv.
The best pashminas don't have to be expensive. In fact, you can find them for well under $20. So, without further ado, let's see some pashmina shawls, shall we, ladies?
Pashmina Shawls Under $20
 Reversible Paisley Pashmina Shawl Wrap in Elegant ColorsCheck Price Sakkas 78″ x 28″ Silky Soft Solid Pashmina Shawl / Wrap / Stole (35+ Solid Colors)Check Price CTM® Womens Classic Pashmina Shawl Wraps, SilverCheck Price Sakkas 70″ x 28″ Border Pattern Layered Woven Pashmina Shawl Scarf Wrap StoleCheck Price Violet 28 Colors Top Quality Hot Sale Ladies Pashmina Shawl Hijab Scarf Huge Range WrapCheck Price New Best Soft Pashmina/Shawl/Scarf/Wrap/Stole Check Price
Cashmere Pashmina Shawls
Who doesn't love the feel of cashmere on their skin? Not only do these cashmere pashminas feel delightful but they are warmer than the woven type. Now, you won't find these for under $20 but some of them are not much more expensive. Cashmere also soaks up dye so the colors of these pashminas are more vibrant than the woven ones.
 PASHMINA SHAWL (LARGE) from Cashmere Pashmina Group in 55 vibrant colorsCheck Price Cashmere Shawl (100% Pure Certified Cashmere Shawl) From Peach CoutureCheck Price SCARVES- PASHMINA STOLE from Cashmere Pashmina Group in many vibrant colorsCheck Price Marvelous Large Cashmere Pashmina Shawl Stole Colors puple Size 80×36 InchesCheck Price
Alpaca Wool Pashmina
I particularly love the Alpaca wool pashmina shawls. In fact, during milder days in winter, I frequently just grab my pashmina instead of a heavier coat. Now, these are much more expensive than either the woven or the cashmere pashminas but, in my humble opinion, they're worth it, particularly after a bad hot flash.
 Super Soft Baby Alpaca Wool Reversible Shawl Wrap Cape Solid Cream ColorCheck Price Womens Alpaca Wool Woven Shawl Wrap Pashmina Scarf Special Ethnic DesignCheck Price Alpaca Wool Winter Shawl Wrap with Crocheted Fringe from PeruCheck Price Super Soft Baby Alpaca Wool Reversible Shawl Wrap Cape Bright Purple ColorCheck Price Womens Alpaca Wool Woven Shawl Wrap Pashmina Scarf Special Ethnic DesignCheck Price